Statue of Zeus at Olympia
by
Phidias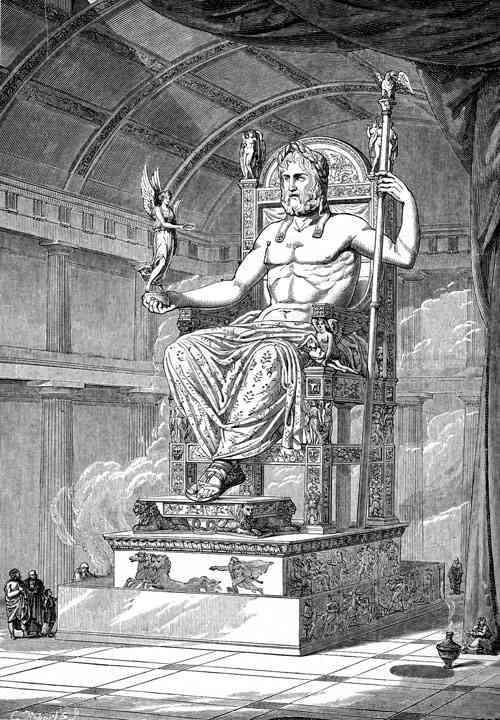 Phidias created the 12 m (40 ft) tall statue of Zeus at Olympia about 435 BC. The statue was perhaps the most famous sculpture in Ancient Greece.
Greek mythology is embodied explicitly in a large collection of narratives and implicitly in representational arts, such as vase-paintings and votive gifts.
Greek myth explains the origins of the world and details the lives and adventures of a wide variety of gods, goddesses, heroes, heroines, and other mythological creatures.
These accounts were initially disseminated in an oral-poetic tradition; the Greek myths are known today primarily from Greek literature.
The oldest known Greek literary sources, the epic poems Iliad and Odyssey, focus on events surrounding the Trojan War.
---




Personal Position:
I've come to realize that 'truth' boils down to what we 'believe' the facts we've gathered point to. We only 'know' what we've 'experienced' firsthand. Everything else - what we read, what we watch, what we hear - is what someone else's gathered facts point to and 'they' 'believe' is 'truth', so that 'truth' seems to change in direct proportion to newly gathered facts divided by applied plausibility. Though I believe there is 'truth', until someone representing the celestial realm visibly appears and presents the heavenly records of Facts And Lies In The Order They Happened, I can't know for sure exactly what "the whole truth' on any given subject is, and what applies to me applies to everyone. Until then I'll bounce everything against the one source that claims itself a celestial revelation—The Urantia Book
~Gail Bird Allen