NAMMU
Mother
of all
Sumerian Gods

NAMMU is considered the grandmother of a great many offspring descendants. (They are all listed below) She was considered the goddess of the Sea.  Her husband was ANU (AN). She was Saltwater, and he was Freshwater.
After the sumerian mythology, around year 4000 BC, a sumerian couple lived in Dilmun: Nammu and her husband An.
After her death, Nammu became the Goddess of the sea (abzu) and ANU (An) became the God of the Sky. Nammu was the mother and ancestor of all the sumerian gods. Nammu will be later called : Ningal and An : Nanna (their Akkadian names).
---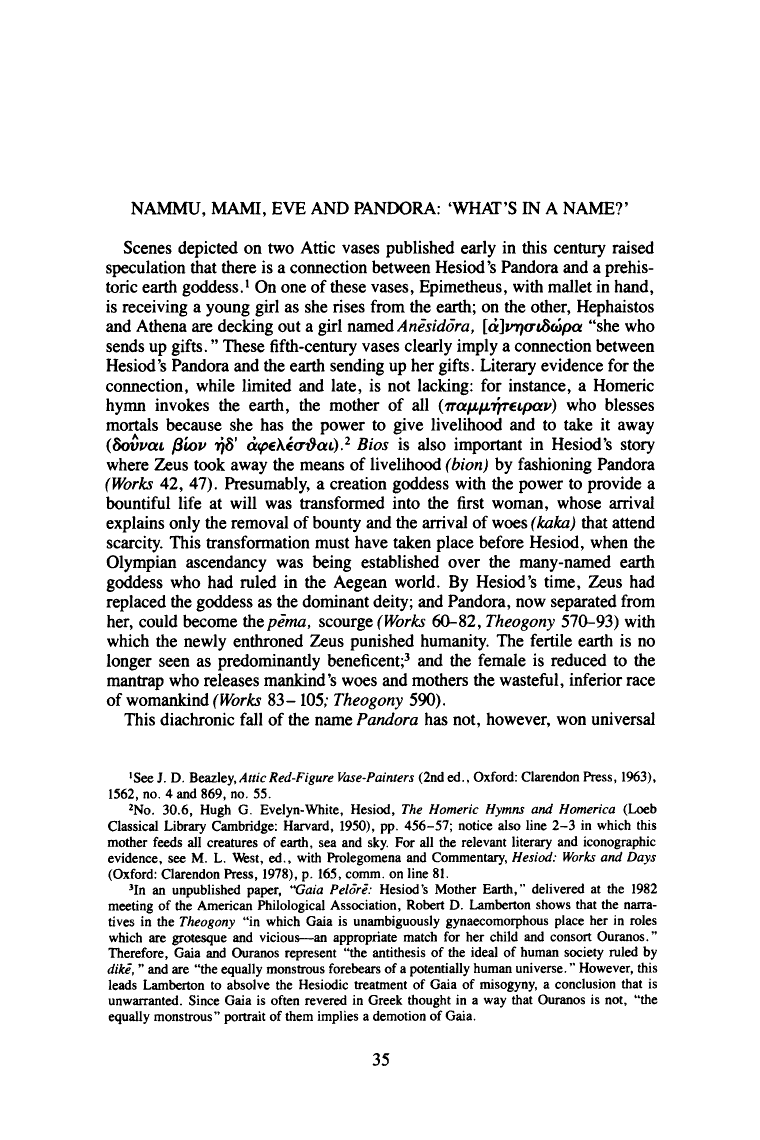 ---
Nammu

Goddess Nammu
In Sumerian mythology, Nammu (more properly Namma) was a primeval goddess, corresponding to Tiamat in Babylonian mythology. Taimat was a primordial goddess who rose from the void and created the  collective unconsciousness.
Nammu was the  primeval sea (Engur) that gave birth to An (heaven) and Ki (earth) and the first gods, representing the Apsu, the fresh water ocean that the Sumerians believed lay beneath the earth, the source of life-giving water and fertility in a country with almost no rainfall.
Nammu is not well attested in Sumerian mythology. She may have been of greater importance prehistorically, before Enki took over most of her functions. An indication of her continued relevance may be found in the theophoric name of Ur-Nammu, the founder of the Third Dynasty of Ur. According to the Neo-Sumerian mythological text Enki and Ninmah, Enki is the son of An and Nammu. Nammu is the goddess who "has given birth to the great gods". It is she who has the idea of creating mankind, and she goes to wake up Enki, who is asleep in the Apsu, so that he may set the process going.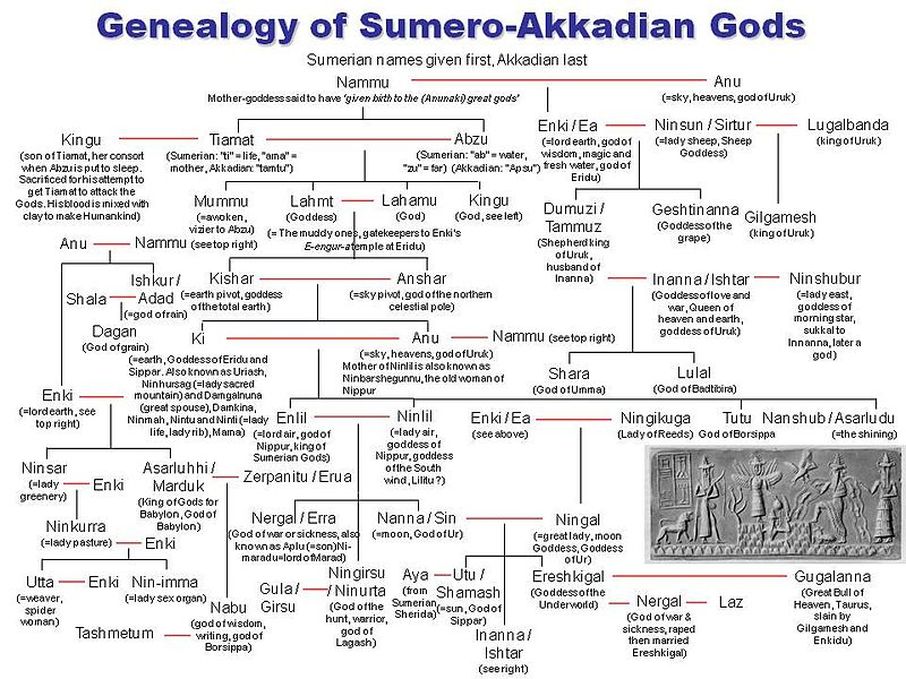 ---
Namma (goddess)
by Nicole Brisch, 'Namma (goddess)',
Ancient Mesopotamian Gods and Goddesses,
Oracc and the UK Higher Education Academy, 2013
[oracc.iaas.upenn.edu/amgg/listofdeities/namma/]
---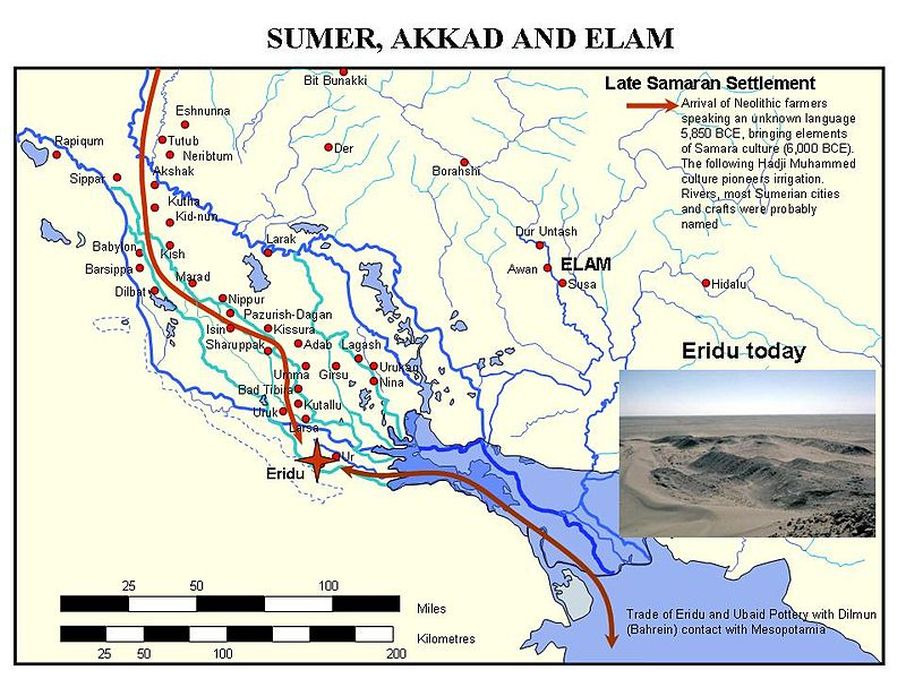 Goddess from  Eridu. She is known as the mother of the god  Enki/Ea as well as the mother goddess who gave birth to the cosmos and all the gods. Like her son  Enki/Ea she is also associated with magic. In later times, her role is taken on by  Tiamat.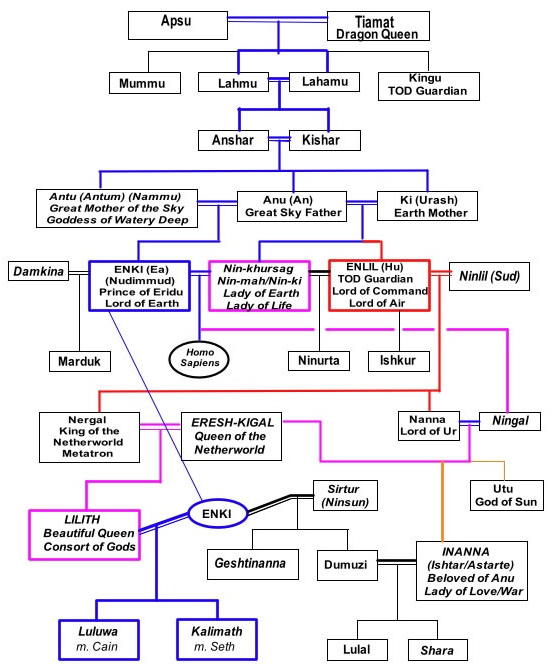 Functions
Very little is known about Namma, who belongs to the oldest generation of Mesopotamian deities and is associated with the pantheon of Eridu. She is mainly known for her role in the cosmogony of early Mesopotamia and her importance in magic, which is restricted to texts written in Sumerian ( Wiggermann 1998-2001c: 137-8). According to the god list An-Anum, tablet I line 28 ( Litke 1998: 24;  Wiggermann 1998-2001c: 137), Namma bears the title "mother who gave birth to the heavens and the earth."
Because this goddess's name is written with sign for "(cosmic) subterranean waters" (Sumerian: engur) Wiggermann ( 1998-2001c: 136-7) has called her the "Cosmic Ocean" (also see  Lambert 2008: 31). No husband or male god is attested in connection with Namma, thus leading to the belief that "the first cosmic production is asexual" ( Wiggermann 1998-2001c: 137). In later tradition, namely in Enūma eliš  TT,  Tiamat takes over the role of Namma as primeval ocean. However, there are significant differences in the way the goddesses are portrayed in the literature (see the entry on  Tiamat).
In the Sumerian poem of Enki and Ninmah ( ETCSL 1.1.2, line 17) Namma is called the "original mother who gave birth to the gods of the universe", again according her primary status among all the gods and describing her role in Mesopotamian cosmogony. Later on, in particular in Akkadian texts, Namma loses importance and is only rarely mentioned.
Aside from the few mentions of Namma in other mythological and literary texts about other gods, no mythology of this ancient goddess has survived the ages.
Divine Genealogy and Syncretisms
In the god list An-Anum ( Litke 1998: 24) Namma is identified as the "mother of the god Enki," which clearly accords her, at least originally, a higher or more ancient status than that of her son. In an inscription dating to the Early Dynastic III (?) period, king Lugal-KISAL-si, a king of Uruk, ( Frayne 2008: 422-3, no. 2) dedicated a temple to the goddess, who is described as the "spouse of  An," the god of heavens, although Wiggermann ( 1998-2001c: 138) has interpreted this as a secondary development.
Cult Place(s)
There is very little evidence attesting to a cult of Namma. Because the Early Dynastic III foundation inscription mentioned above ( Frayne 2008: 422-3, no. 2) is of unknown provenance, it is unclear where her temple may have been built.
The Early Dynastic zà-mì-hymns (lines 140-41) ( Biggs 1974: 50, 55) also mention a temple for her, yet the passage is difficult to read. For more information on evidence of her cult, dating even to the Neo-Babylonian period, see  Wiggermann 1998-2001c: 139.
Time Periods Attested
The earliest attestations of Namma date to the Early Dynastic IIIa period, where she is mentioned in one of the "Fara god lists" ( Krebernik 1986: 175 column VIII l. 10). Her latest reference dates to the Neo-Babylonian period, when king Nabonidus mentions her shrine, the ki-ús-dnamma ("foundation(?) of Namma") as part of the Esagil, Marduk's temple at Babylon ( George 1993: 113).
Iconography
Namma's iconography is uncertain.
Name and Spellings
The reading and spelling of Namma's name has been subject to some research. Originally, her name was read Nammu, but Civil ( 1985: 27 n. 1) suggested a reading of the name as Namma, which is now more commonly accepted. It has been suggested that her name is etymologically related to a word that means "creation" ( Wiggermann 1998-2001c: 135-36), although it is not clear whether this might be a folk etymology.
Written forms:

dnammu; dlammu; dnamma; na-am-na-am-mi; na-am-ma; dna-na-ma-ke (for more information see 

Wiggermann 1998-2001c

: 136)

Normalized forms:

Namma; Nammu
Namma in Online Corpora
Further Reading
---
NAMMA, Primeval Mother Goddess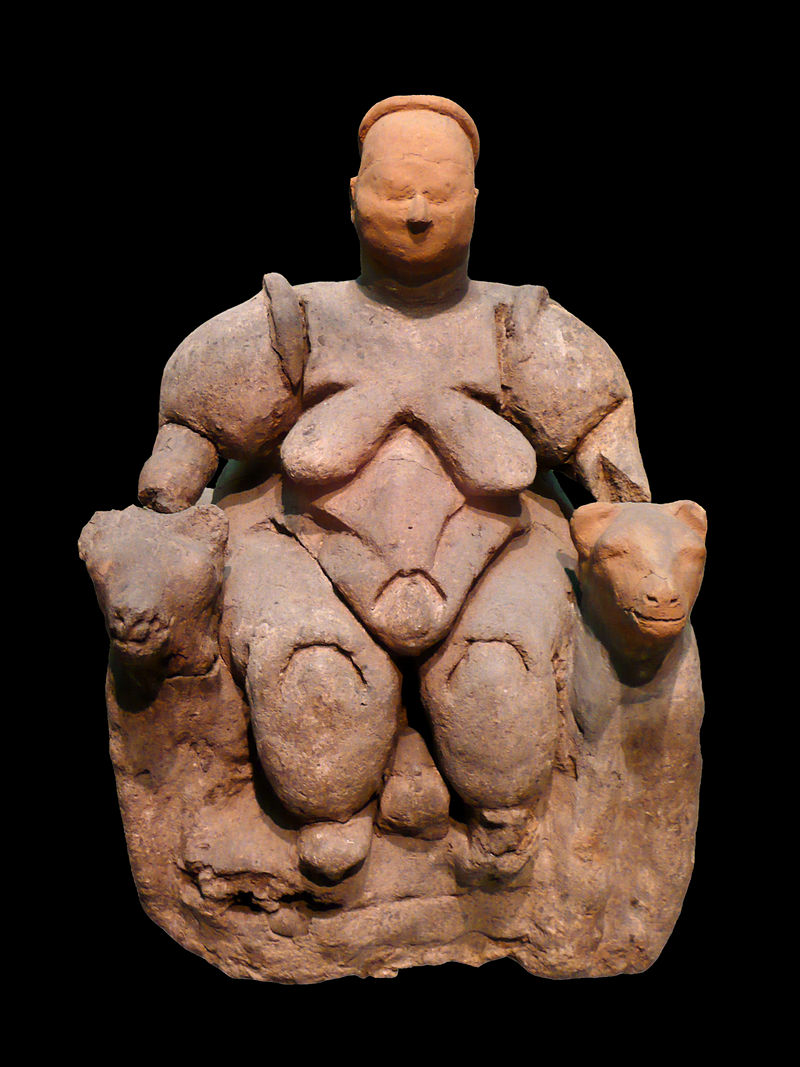 In the Beginning, the Goddess Nammu (Namma) created the world and then was forgotten. Namma is the mother goddess. Namma/Sophia is WORLDWIDE. Before modern humans walked on the earth or were even thought of, the Mother of all, the Great Namma already existed. She created life on earth as we see it now and is known through time as the "Earth Mother," "Great Mother," and "Mother of All the Gods."
She then decided to create children. They were created as Gods to experience the Earth. The term Anunnaki matches them perfectly as it means "Gods of Earth," as they were created here and did not come from somewhere else. These Gods or the children of Namma grew up and started modifying the Earth. Namma upset with their behavior resolves to destroy them before it got worse. Her children heard this and decided to fight her. The hero varies through time but she is then killed by her children. They take her power and use it to create the heavens.
This Mother Goddess is known by many names throughout the World. In Paleolithic times back to 35,000 BCE, statues are found archaeologically of a very robust woman. They are often called "Venus" statues but are in fact the Mother Goddess or Namma . These figurines have been found in Turkey as recently as 7,000 years ago. At some time around this period she disappears except for occasional mentioning. This is about the time the path to civilization was started.
In these new civilizations, the Anunnaki declared themselves the Gods of the humans or the "black-headed people". In early human beliefs, they were told they were created by the Gods to be their slave and do their work. A human was expected to do whatever their God wanted them to and they were judged as to whether they made their God happy.
The Anunnaki did not CREATE anything. They modified what was here and made new species but they did not create the life on this planet. Life was seeded a long time ago on earth and the life evolved via the natural procesess that do exist but there were manipulations and creations throughout that time but not like the last 12,000 years.
"Namma told Enki: Please apply the skill deriving from your wisdom and create a substitute (?) for the gods so that they can be freed from their toil!" And after Enki, the fashioner of designs by himself, had pondered the matter, he said to his mother Namma: "My mother, the creature you planned will really come into existence. Impose on him the work of carrying baskets. You should knead clay from the top of the abzu; the birth-goddesses (?) will nip off the clay and you shall bring the form into existence."
So they hijacked the system for their desires. In Sumerian mythology, Nammu (also Namma) was a primeval mother goddess, corresponding to Tiamat in Babylonian mythology. Nammu was later connected to Isis and Venus because she was the only Goddess for 30,000 years. People have done this but Isis was a granddaughter of Namma. The onset of Anunnaki gods caused the almost erasure of her except in certain places. They erased her as much as they could because they killed her and enslaved her creation for their own purposes. If they allowed her cults to continue enmasse then it was potential for us to remember what happened. As long as we forgot we worshiped them and gave them her power. They tried propaganda against Namma, labeling her an evil dragon. They killed her and made the heavens with her.
Namma/Tiamat Ki are the same in my opinion.
By her consort Anu, Ki gave birth to the Anunnaki, the most prominent of these deities being Enlil, god of the air. According to legends, heaven and earth were once inseparable until Enlil was born; Enlil cleaved heaven and earth in two. An carried away heaven. Ki, in company with Enlil, took the earth.
Kings of Assyria
Assyria or Athura (Aramaic for Assyria) was a Semitic Akkadian kingdom, extant as a nation state from the late 25th or early–24th century BC to 608 BC centred on the Upper Tigris river, in northern Mesopotamia (present day northern Iraq), that came to rule regional empires a number of times through history. It was named for its original capital, the ancient city of Assur.
The Early Period
Tudiya
Adamu
Yangi
Kitlamu
Harharu
Mandaru
Imsu
Harsu
Didanu
Hanu
Zuabu
Nuabu
Abazu
Belu
Azarah
Zariqum
Puzur-Ashur I
Shalim-Ahu
Ilu-Shuma
Erishum I
The Akkadian period
Sargon I 2334 BC 2279 BC
Rimush 2278 BC 2270 BC
Manishtushu 2269 BC 2255 BC
Naram-Sin 2254 BC 2214 BC
Shar-Kali-Shari 2217 BC 2193 BC
Igigi 2192 BC ?
Nanium ? ?
Imi ? ?
Elul-dan 2190 BC ?
Dudu 2189 BC 2169 BC
Shu-Turul 2168 BC 2154 BC
Ur-III Period
Ur-Nammu 2112 BC 2095 BC
Shulgi 2094 BC 2047 BC
Amar-Sin 2046 BC 2038 BC
Shu-Sin 2037 BC 2027 BC
Ibbi-Sin 2028 BC 2004 BC
Amorite Domination
Hale ? ?
Samanu ? ?
Hayani ? ?
Ilu-Mer ? ?
Yakmesi ? ?
Yakmeni ? ?
Yazkur-ilu ? ?
Ilu-Kabkabi ? ?
Aminu ? ?
---




Personal Position:
I've come to realize that 'truth' boils down to what we 'believe' the facts we've gathered point to. We only 'know' what we've 'experienced' firsthand. Everything else - what we read, what we watch, what we hear - is what someone else's gathered facts point to and 'they' 'believe' is 'truth', so that 'truth' seems to change in direct proportion to newly gathered facts divided by applied plausibility. Though I believe there is 'truth', until someone celestial who 'knows' all the facts parts the heavens and throws us a scroll titled "Here Are ALL The Facts And Lies In The Order They Happened," I can't know for sure exactly what "the whole truth' on any given subject is, and what applies to me applies to everyone.
~Gail Bird Allen







Never in your long ascendancy will you lose the power to recognize your associates of former existences. Always, as you ascend inward in the scale of life, will you retain the ability to recognize and fraternize with the fellow beings of your previous and lower levels of experience. Each new translation or resurrection will add one more group of spirit beings to your vision range without in the least depriving you of the ability to recognize your friends and fellows of former estates.

Princess Bride 1987 Wallace Shawn (Vizzini) and Mandy Patinkin (Inigo Montoya)

Vizzini: HE DIDN'T FALL? INCONCEIVABLE.
Inigo Montoya: You keep using that word. I do not think it means what you think it means.

And here is mystery: The more closely man approaches God through love, the greater the reality -- actuality -- of that man. The more man withdraws from God, the more nearly he approaches nonreality -- cessation of existence. When man consecrates his will to the doing of the Father's will, when man gives God all that he has, then does God make that man more than he is.

"And do you not remember that I said to you once before that, if you had your spiritual eyes anointed, you would then see the heavens opened and behold the angels of God ascending and descending? It is by the ministry of the angels that one world may be kept in touch with other worlds, for have I not repeatedly told you that I have other sheep not of this fold?"

But we know that there dwells within the human mind a fragment of God, and that there sojourns with the human soul the Spirit of Truth; and we further know that these spirit forces conspire to enable material man to grasp the reality of spiritual values and to comprehend the philosophy of universe meanings. But even more certainly we know that these spirits of the Divine Presence are able to assist man in the spiritual appropriation of all truth contributory to the enhancement of the ever-progressing reality of personal religious experience—God-consciousness.

When you are through down here, when your course has been run in temporary form on earth, when your trial trip in the flesh is finished, when the dust that composes the mortal tabernacle "returns to the earth whence it came"; then, it is revealed, the indwelling "Spirit shall return to God who gave it." There sojourns within each moral being of this planet a fragment of God, a part and parcel of divinity. It is not yet yours by right of possession, but it is designedly intended to be one with you if you survive the mortal existence.

And the greatest of all the unfathomable mysteries of God is the phenomenon of the divine indwelling of mortal minds. The manner in which the Universal Father sojourns with the creatures of time is the most profound of all universe mysteries; the divine presence in the mind of man is the mystery of mysteries.

To every spirit being and to every mortal creature in every sphere and on every world of the universe of universes, the Universal Father reveals all of his gracious and divine self that can be discerned or comprehended by such spirit beings and by such mortal creatures. God is no respecter of persons, either spiritual or material. The divine presence which any child of the universe enjoys at any given moment is limited only by the capacity of such a creature to receive and to discern the spirit actualities of the supermaterial world.

Paradise is the eternal center of the universe of universes and the abiding place of the Universal Father, the Eternal Son, the Infinite Spirit, and their divine co-ordinates and associates. This central Isle is the most gigantic organized body of cosmic reality in all the master universe. Paradise is a material sphere as well as a spiritual abode. All of the intelligent creation of the Universal Father is domiciled on material abodes; hence must the absolute controlling center also be material, literal. And again it should be reiterated that spirit things and spiritual beings are real.

Culture presupposes quality of mind; culture cannot be enhanced unless mind is elevated. Superior intellect will seek a noble culture and find some way to attain such a goal. Inferior minds will spurn the highest culture even when presented to them ready-made.

True liberty is the associate of genuine self-respect; false liberty is the consort of self-admiration. True liberty is the fruit of self-control; false liberty, the assumption of self-assertion. Self-control leads to altruistic service; self-admiration tends towards the exploitation of others for the selfish aggrandizement of such a mistaken individual as is willing to sacrifice righteous attainment for the sake of possessing unjust power over his fellow beings.

How dare the self-willed creature encroach upon the rights of his fellows in the name of personal liberty when the Supreme Rulers of the universe stand back in merciful respect for these prerogatives of will and potentials of personality! No being, in the exercise of his supposed personal liberty, has a right to deprive any other being of those privileges of existence conferred by the Creators and duly respected by all their loyal associates, subordinates, and subjects.

There is no error greater than that species of self-deception which leads intelligent beings to crave the exercise of power over other beings for the purpose of depriving these persons of their natural liberties. The golden rule of human fairness cries out against all such fraud, unfairness, selfishness, and unrighteousness.