Cutting Of The Elm
Wikipedia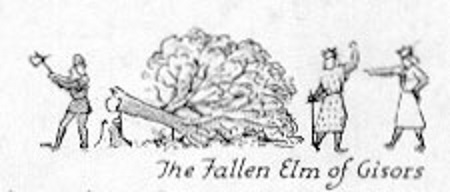 The Cutting of the elm was a diplomatic altercation between the Kings of France and England in 1188, during which an elm tree near Gisors in Normandy was felled.
Diplomatic significance
In the 12th century, the tree marked the traditional place of Franco-Norman negotiations, as the field was located on the border between Normandy, ruled by the English King, and the royal domains of the French King.[1][2]
Accounts
One account [3] narrates the meeting between Henry II of England and Philippe II of France in 1188, following the fall of Jerusalem:
At Gisors, Henry II and his advisers stood under an Elm tree while Philippe and his entourage suffered in the full heat of the sun. After the meeting, Philippe ordered the tree cut down and hacked to pieces, sending the message that he would offer no quarter to the English.
The Minstrel of Rheims (c. 1260) gives a quite different account [4]:
King Richard sent a message to the counts of Sancerre and of Barre, telling them that they took the king's bread and gave him nothing in return but if they were brave enough to come to the elm tree at Gisors, he would consider them truly courageous. The French nobles sent the message back that they would come the next day, at the third hour, to cut the tree down, in spite of him. When the English king heard that they were coming to cut down the tree, he had the trunk reinforced with bands of iron, that were wrapped five times around it. The next morning the French nobles armed themselves, and assembled five squadrons of their men, one of which was led by the count of Sancerre, another by the count of Chartres, the third by the count of Vendome, the fourth by the count of Nevers, and the fifth by sir William of Barre and sir Alain of Roucy. The rode up to the elm tree at Gisors, with the crossbowmen and carpenters out front, and they had in their hands sharp axes and good pointed hammers, with which to cut the bands that were fastened around the tree. They stopped at the elm tree, tore off the bands, and cut it down, in spite of all resistance.
Popular culture
The event has been used in the hoax created by Pierre Plantard and other pseudo-historical theories. In this context, the Cutting of the elm was portrayed as marking the split between the (historical) Knights Templar and the (fictional) Priory of Sion.
Notes:

1. Nicholas Vincent, "William Marshal, King Henry II and the Honour of Chateauroux".

2. W.L. Warren, Henry II, Yale University Press, p. 617.

3. Bradford Smith, The Foundations of the West - Course Material, "Chapter 8 The Age of the Crusades - The Rise of France under Philip Augustus and of St. Louis".

4. A Thirteenth-Century Minstrel's Chronicle, a translation by Robert Levine of the Récits d'un ménestrel de Reims, a thirteenth-century historical fiction.
---




Personal Position:
I've come to realize that 'truth' boils down to what we 'believe' the facts we've gathered point to. We only 'know' what we've 'experienced' firsthand. Everything else - what we read, what we watch, what we hear - is what someone else's gathered facts point to and 'they' 'believe' is 'truth', so that 'truth' seems to change in direct proportion to newly gathered facts divided by applied plausibility. Though I believe there is 'truth', until someone representing the celestial realm visibly appears and presents the heavenly records of Facts And Lies In The Order They Happened, I can't know for sure exactly what "the whole truth' on any given subject is, and what applies to me applies to everyone. Until then I'll bounce everything against the one source that claims itself a celestial revelation—The Urantia Book
~Gail Bird Allen